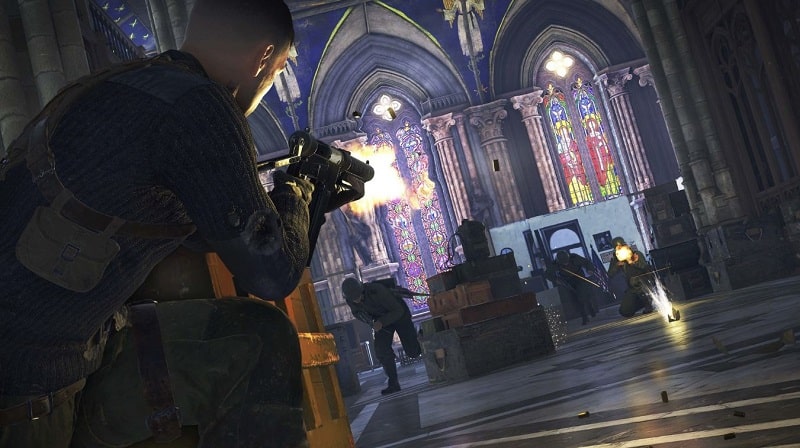 Want to know about new PS5, PS4 games release dates in 2022? Then this article will be your touchstone throughout the whole of 2022 to keep up with every game coming to PS5 and PS4, as it will be consistently updated and maintained to include only the most accurate information. For further reading, you can check out our in-depth PS5 guide, PS4 games that give free PS5 upgrades guide, all the best PS5 games available, all PS5 games that have enhanced graphics, PS5 games that support crossplay, PS4 games that run at 60 FPS on PS5 and our feature which details all the PS5 games that perform better than the Xbox Series X versions.
All Upcoming PS5, PS4 Games Release Dates
---
It should be noted that this list contains only games that are set to appear on a PlayStation platform, (PS5, PS4, PSVR). This list is split into months, with game releases dated appropriately. Following that is a list of games that are confirmed to be coming to PlayStation, though have no release date, followed by games that could potentially be coming in 2022, and lastly is a list of games that are not confirmed for PlayStation but could be coming to the platform in 2022.
All Upcoming PS5, PS4 Games Release Dates In This Guide:
January 2022 PS4, PS5 Games Release Dates
---
Battle Brothers (PS5, PS4) – January 13, 2022
Blackwind (PS5, PS5) – January 20, 2022
Rainbow Six Extraction (PS5, PS4) – January 20, 2022
Windjammers 2 (PS5, PS4) – January 20, 2022
Reverie Knights Tactics (PS4) – January 25, 2022
Gunvolt Chronicles: Luminous Avenger iX 2 (PS4) – January 27, 2022
Uncharted: Legacy of Thieves Collection (PS5) – January 28, 2022
February 2022 PS4, PS5 Games Release Dates
---
Life Is Strange Remastered Collection (PS5, PS4) – February 1, 2022
Dying Light 2: Stay Human (PS5, PS4) – February 4, 2022
OlliOlli World (PS5, PS4) – February 8, 2022
Sifu (PS5, PS4) – February 8, 2022
Unbound: Worlds Apart (PS5, PS4) – February 9, 2022
Oddworld: Strangers Wrath (PS4) – February 11, 2022
Infernax (PS4) – February 14, 2022
Dynasty Warriors 9 Empires (PS5, PS4) – February 15, 2022
King Of Fighters 15 (PS5, PS4) – February 17, 2022
Horizon Forbidden West (PS5, PS4) – February 18, 2022
Destiny 2: The Witch Queen (PS5, PS4) – February 22, 2022
Ghosts (PS4) – February 22, 2022
Asseto Corsa Competizione (PS5) – February 25, 2022
Martha Is Dead (PS4, PS5) – February 24, 2022
Elden Ring (PS5, PS4) – February 25, 2022
GRID Legends (PS5, PS4) – February 25, 2022
March 2022 PS4, PS5 Games Release Dates
---
Elex II (PS5, PS4) – March 1, 2022
Pathfinder: Wrath of the Righteous (PS4) – March 1, 2022
Far: Changing Tides (PS5, PS4) – March 1, 2022
Shadow Warrior 3 (PS5, PS4) – March 1, 2022
Babylon's Fall (PS5, PS4) – March 2, 2022
Gran Turismo 7 (PS5, PS4) – March 4, 2022
SpellForce 3 Reforced (PS5, PS4) – March 8, 2022
SpellForce 3 Reforced: Soul Harvest DLC (PS5, PS4) – March 8, 2022
SpellForce 3 Reforced: Fallen God DLC (PS5, PS4) – March 8, 2022
Assassin's Creed Valhalla – Dawn of Ragnarok DLC (PS5, PS4) – March 10, 2022
WWE 2K22 (PS5, PS4) – March 11, 2022
Grand Theft Auto V: Enhanced Edition (PS5) – March 15, 2022
Phantom Breaker: Omnia (PS4) – March 15, 2022
Persona 4 Arena Ultimax (PS4) – March 17, 2022
Stranger Of Paradise Final Fantasy Origin (PS5, PS4) – March 18, 2022
Ghostwire: Tokyo (PS5) – March 25, 2022
Tiny Tina's Wonderland (PS5, PS4) – March 25, 2022
In Nightmare (PS5, PS4) – March 29, 2022
Weird West (PS4) – March 31, 2022
April 2022 PS4, PS5 Games Release Dates
---
May 2022 PS4, PS5 Games Release Dates
---
Dungeon Defenders: Awakened (PS4) –

Unpacking (PS4, PS5) – May 10
Soundfall (PS5) – May 11
Outward: Definitive Edition (PS5) – May 17

Kao the Kangaroo (PS4, PS5) –
June 2022 PS4, PS5 Games Release Dates
---
The Gardens Between (PS5) – June 16
Teenage Mutant Ninja Turtles: Shredder's Revenge (PS4, PS5) – June 16
Blade Runner: Enhanced Edition (PS4) – June 23
FOBIA – St Dinfa Hotel (PS4, PS5) – June 28
Sword of the Vagrant (PS4, PS5) – TBA June
July 2022 PS4, PS5 Games Release Dates
---
August 2022 PS4, PS5 Games Release Dates
---
Sword and Fairy: Friends Forever (PS5) – August 4
Two Point Campus (PS4, PS5) – August 9
Rumbleverse (PS4, PS5) – August 11
Cult of the Lamb (PS4, PS5) – August 11
Marvel's Spider-Man (PC) – August 12
Way of the Hunter (PS5) – August 16
Rollerdrome (PS4, PS5) – August 16
Cloudpunk – (PS5) – August 19
Madden NFL 23 (PS4, PS5) – August 20
Saints Row (PS4, PS5) – August 23
Midnight Fight Express (PS4, PS5) – August 23
Soul Hackers 2 (PS4, PS5) –
Pac-Man World Re-Pac (PS4, PS5) – August 26
Destroy All Humans! 2 Reprobed (PS5) – August 30
Dusk Diver 2 (PS4, PS5) – August 30
F1 Manager 2022 (PS4, PS5) – August 30
September 2022 PS4, PS5 Games Release Dates
---
The Last Of Us Part 1 (PS5) – September 2
LEGO Brawls (PS4, PS5) – September 2
JoJo's Bizarre Adventure: All Star Battle R (PS4, PS5) – September 2
The Tomorrow Children: Phoenix Edition (PS4) September 6
Temtem (PS5) – September 6
Disney Dreamlight Valley (PS4, PS5) – September 6
Steelrising (PS5) – September 8
NBA 2K23 (PS4, PS5) – September 9
Shinigami: Shibito Magire (PS4) – September 15
Metal: Hellsinger (PS5) – September 15
Outer Wilds (PS5) – September 15
Stray (Physical Edition, PS5) – September 20
Potion Permit (PS4, PS5) – September 22
Session: Skate Sim (PS4, PS5) – September 22
Test Drive Unlimited: Solar Crown (PS4, PS5) – September 22
The Legend of Heroes: Trails from Zero (PS4) – September 27
Deliver Us Mars (PS4, PS5) – September 27
White Day: A Labyrinth Named School (PS5) – September 30
FIFA 23 (PS4, PS5) – September 30
Valkyrie Elysium (PS4, PS5) – September 30
October 2022 PS4, PS5 Games Release Dates
---
Overwatch 2 (PS4, PS5) – October 4
Chef Life: A Restaurant Simulator (PS4, PS5) – October 6
Medieval Dynasty (PS5, PS4) – October 6
No Man's Sky (PS5 Physical Release) – October 7
The Last Oricru (PS5) – October 13
Saint Kotar (PS4, PS5) – October 14
Dragon Ball: The Breakers (PS4) – October 14
NHL 23 (PS5, PS4) – October 14
A Plague Tale: Requiem (PS4, PS5) – October 18
Ghostbusters: Spirits Unleashed (PS4, PS5) – October 18
Warhammer 40,000: Shootas, Blood & Teef (PS4, PS5) – October 20
Star Ocean: The Divine Force (PS4, PS5) – October 22
Gotham Knights (PS5) – October 25
Mount & Blade II: Bannerlord (PS4, PS5) – October 25
Call of Duty: Modern Warfare 2 (PS4, PS5) – October 28
Resident Evil Village Gold Edition (PS4, PS5) – October 28
Warhammer 40,000: Inquisitor – Martyr (PS5) – October 28
November 2022 PS4, PS5 Games Release Dates
---
Shatter Remastered Deluxe (PS4, PS5) – November 2
Die by the Blade (PS4, PS5) – November 3
The Chant (PS5) – November 3
The Entropy Centre (PS4, PS5) – November 3
WRC Generations (PS4, PS5) – November 3
HUMANKIND (PS4, PS5) – November 4
Football Manager 2023 (PS5) – November 8
Sonic Frontiers (PS4, PS5) – November 8
God of War Ragnarok (PS4, PS5) – November 9
Do Not Open (PS5) – November 15
Somerville (PS4, PS5) – November 15
Ys VIII: Lacrimosa of Dana (PS5) – November 16
Call of Duty: Warzone 2.0 (PS4, PS5) – November 16
Goat Simulator 3 (PS5) – November 17
The Dark Pictures Anthology: The Devil in Me (PS4, PS5) – November 18
Evil West (PS4, PS5) – November 22
Gungrave G.O.R.E (PS4, PS5) – November 22
Just Dance 2023 Edition (PS5) – November 22
Ship of Fools (PS5) – November 22
December 2022 PS4, PS5 Games Release Dates
---
Undated Upcoming PS5, PS4 Games Releases Coming Soon
---
A Space For The Unbound (PS4) – 2022
Alaskan Truck Simulator (PS5, PS4) – 2022
Arc Raiders (PS5) – 2022
Arctic Awakening (PS5, PS4) – 2022
Brewmaster (PS5, PS4) – 2022
Clash: Artifacts Of Chaos (PS5, PS4) – 2022
Dark Envoy (PS5, PS4) – 2022
Dark Fracture (PS5, PS4) – 2022
Daymare: 1994 Sandcastle (PS5, PS4) – 2022
Die By The Blade (PS5, PS4) – 2023
Endless Dungeon (PS5, PS4) – 2022
Goodbye Volcano High (PS5, PS4) – 2022
Instinction (PS4) – 2022
KartRider: Drift (PS4) – 2022
Kerbal Space Program 2 (PS5, PS4) – 2022
The Last Worker (PS5) – 2022
Little Devil Inside (PS5, PS4) – 2023
Luto (PS5, PS4) – 2022
Oxenfree 2: Lost Signals (PS4) – 2023
Park Beyond (PS5) – 2022
Prince Of Persia: The Sands Of Time Remake (PS5, PS4) – TBA
Rocksmith+ (PS5, PS4) – 2022
Rumbleverse – 2022
SacriFire (PS5, PS4) – 2022
The Serpent Rogue (PS5) – 2022
Six Days In Fallujah (PS5, PS4) – 2023
SpiderHeck (PS5, PS4) – 2022
Squadron 51 (PS4) – 2022
Stray Blade (PS5) – 2022
Sunshine Manor (PS4) – 2022
Tchia (PS5, PS4) – 2023
Tinykin (PS5, PS4) – 2022
Undying (PS4) – 2022
War Hospital (PS5) – 2022